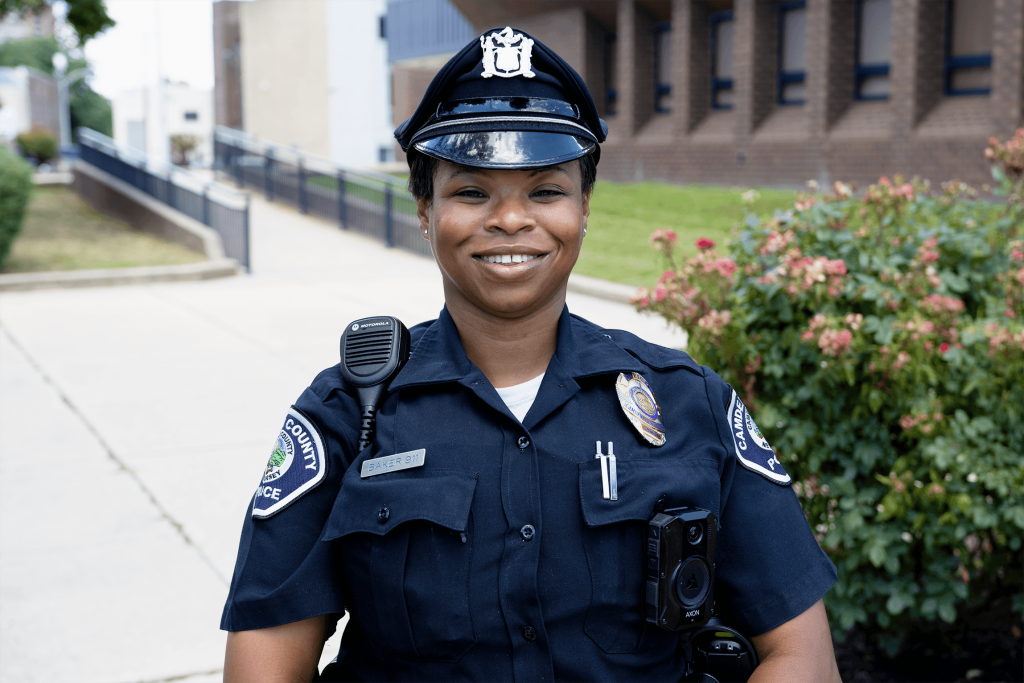 When Officer Deborah Baker was growing up here in Camden, she remembers watching shows like CSI and Manhunters and thinking about how one day she wanted to work in law enforcement, particularly as a U.S. Marshal tracking down dangerous fugitives.
She never let go of that dream, and years later, after graduating from Creative Arts High School in 2009 she went to Stockton University and earned her degree in criminal justice. She held jobs in private security after college and then later worked at a nearby Wawa that happened to be frequented by law enforcement personnel, including some U.S. Marshals and Camden County Police Department officers.
She talked to the officers she met, asked questions and figured out that she really could do it.
"That's when I knew I wanted to work for the police in Camden. I knew I wanted to serve my city before doing anything else."
So she put in her application and in 2019 her longtime dream became a reality as Baker joined the Camden County Police Department and became Officer Baker.
Now, two years into her law enforcement career, Officer Baker is an integral part of the department's Community Events Unit in the Neighborhood Response Team.
"I love what I do every day, making connections with people, letting people see that there are officers that look like them and who do care."
She is especially fond of assignments where she gets to spend time with younger Camden residents, teenagers and little children, and help give them a positive impression about police officers. The little kids love looking at all the equipment on her belt and sometimes ask her if she punishes bad people.
"I tell them, we don't just take away bad people, we help good people too."
She's also proud to be part of a department that is changing attitudes in the community. From her regular interactions with various stakeholders and community leaders in the city, she sees that the hard work being done by officers is working to erode old, negative attitudes and build real trust between officers and residents.
"We've made a lot of progress over the years with what we're doing," she says of the department. "And I do feel like there's more to come the more we keep evolving and finding new, innovative ways to do what we're doing."
Written by Mike Daniels